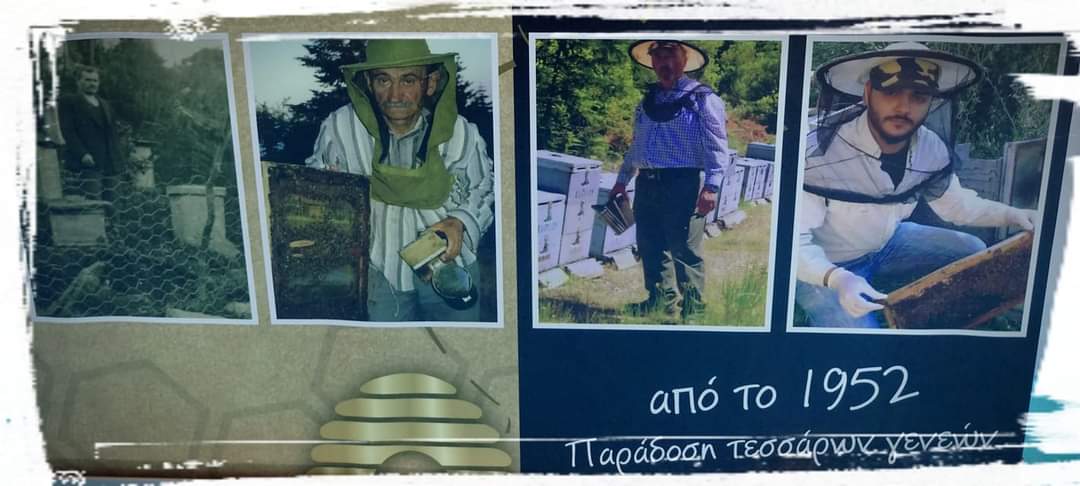 Our Family Bee story
Our family business is a modern honey processing unit, based in a village called Spolaita in Aitoloakarnania, in Western Greece , with packaging unit license since 2006.
The gene for the love of beekeeping entered the family in 1950 when the great-grandfather, Lambros Halimourdas, finds and places 3 domestic beehives in hives. His passion for the bee community he met led him to increase his swarms and pass this flame on to his son, Georgios Halimourdas. He in turn acquires more knowledge and increases the number of his swarms. The gene, however, meant  to pass on  the youngest Lambros Halimourdas, who did not let this tradition be lost and also became a beekeeper.
Along with his wife, Chrysoula Tsiakanika, who also comes from a family with experience in beekeeping, they increase the number of their beehives and  went one step further and modernize the way of processing and standardization of honey through the establishment of the laboratory in 2006.
The first passion of great grandfather Lambros Chalimourdas, grandfather's experience George Chalimourdas and the hard work and persistence of Lambros Chalimourdas and Chrisoula Tsiakanika are coming today to meet the enthusiasm and appetite for work of George and Ismini that with respect to the history, will try to be proven worthy successors of the family business.
Our bussiness applies a food and management  system ,ISO 22000: 2005 and is subject to frequent compliance checks since 2013.
The honey is stored in stainless steel containers that  comply with safety and hygiene rules and are accompanied by the corresponding certificates of compliance of the European Union (CE) in a dry and cool place. The packaging is done in modern automatic installations in sterile glass jars.